Percey  N7537-13    Born 20/9/13
Sire.  Barkers Clifford  Q.4653
Dam. Tighe's Sophie  Q.4699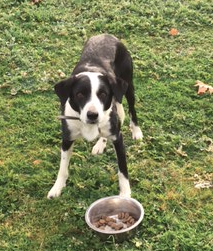 Percey is a nice strong forward dog. He has been breed for sheep with a good cast he leans forward on his stock. He will naturally go to bark in the yard or under pressure, will work cattle but will bark when put under pressure.
He is a novice yard dog and backs and barks with confidence. More suited for work.
Percey and Lilly are for the same litter. Both good handy dogs.
Percey has won a open utility trail and also has won 2 Novice yard trails.
He is a hand full but proving it is well worth the weight.
Some basic footage of Percey can be found below.